with Team Honeycutt       
With Halloween right around the corner, Team Honeycutt has talked about their favorite October events in and around Cabarrus County where people can "fall into fall." Below you will find the TOP 3 neighborhoods our savvy agents recommend stopping by with your kiddos to have a fantastic trick-or-treating adventure.
1. Downtown Concord, N.C. – Candy Crawl
The City of Concord hosts an annual Candy Crawl in downtown Concord where businesses along Union Street pass out candy to trick-or-treaters. This year the Candy Crawl will take place on October 31st from 3pm until 5 pm. South and North Union Street homeowners also partake in the Candy Crawl.
Downtown Concord is always prepared for a large group of families and friends ready to trick-or-treat.

2. Oldenburg, Mount Pleasant, N.C.
The homeowners in Oldenburg see many trick-or-treaters come through for candy, and occasionally even a haunted house. A few of Team Honeycutt's agents are from Mount Pleasant and agree that Oldenburg is a must-stop for their children to trick-or-treat in. A great benefit of trick-or-treating in Oldenburg is being able to park in town and walk from Main Street into Oldenburg or vice-versa and enjoy all the town has to offer. Many families will stop at one of the town restaurants for a family meal before going out for the evening stroll.
Jenna Cook's nieces and nephews love to trick-or-treat through Mount Pleasant.    
3.  Downtown Kannapolis, N.C. – Sweet Street
Another sweet spot to visit this year is the NC Research Center in Kannapolis, N.C. There will be a trunk-or-treat event this year on October 31st from 5:00 p.m. until 8:00 p.m. Bring the kids and family to this event and enjoy music, games, food and fun along the.
Just like those pumpkin spice lattes you can't help but start drinking in September, there are other ways to enjoy the season before breaking out the treat bags. "There is much more fun to be had in our community" says Diane Honeycutt, "the fun doesn't stop with trick-or-treating. There are numerous pumpkin patches, hayrides, haunted trails, and corn mazes our community offers." Below are Team Honeycutt's recommended TOP 3 October events you need to be sure to check out.
Rural Hill is a historic cultural center located in Huntersville, N.C. The Amazing Maize Maze is open weekends starting September 22nd through November 4th for both day and evening adventures. While the maze itself can t

ake around an hour or longer to co

mplete, there are also hayrides, pumpkins, and other out door activities for the whole family to enjoy. If you're looking for more of a challenge then you will definitely want to try the maze at night with flashlights. You can find more information about Rural Hill Amazing Maize Maze by clicking here: Amazing Maize Maze

.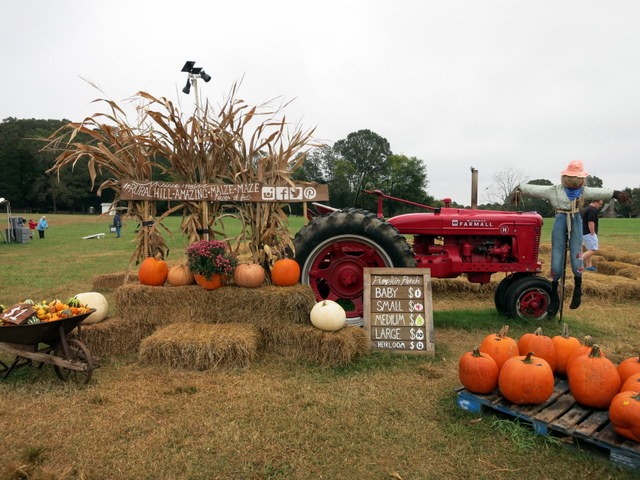 Location: 4431 Neck Rd, Huntersville, NC 28078
2. Almond Farm, LLC.
The Almond Farm, LLC. is located on Hwy 601 in Concord, N.C. Team Honeycutt actually picked pumpkins from Almond Farm to give out as fall gifts for our VIP clients this year. The pumpkins are plump and orange, and the location was easily accessible! Almond Farm, LLC, has something fun for everyone from a hayride, to a corn maze, and even a pumpkin patch, the Almond Farm is great place to create lasting fall memories with family and friends. They also just added a new addition, if you are recently engaged or looking for a beautiful wedding venue, Almond Farm may be the place for you! For fall activities, the farm is open every weekend in October. Saturdays are 10:00 a.m.-6:00 p.m. and Sundays are 1:00 p.m.-6:00 p.m. To find out more about Almond Farm, LLC, search on Facebook @almondfarm.
Location: 5180 US Highway 601 S
Concord, North Carolina 280255
3. Reapers Realm
You might want to leave the kids at home for this one, Reapers Realm is a haunted trail in China Grove, N.C. However, it is not your ordinary haunted trail. It actually has 7 indoor – outdoor fright sections to get a thrill from. Reapers Realm is open October 4,5,11,12,18,19,25,26th, 31st, and November 1st and 2nd. For more information about Reapers Realm visit their website here: Reapers Realm
Location: 1610 Daugherty Rd, China Grove, NC 28023

Team Honeycutt wishes you a Happy Fall Season!
Don't let Team Honeycutt determine your fall-fun, feel free to share your best fall moments on the team's Facebook page!